Avoid the mess, let us deliver for you!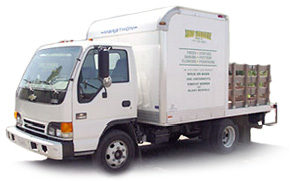 Luis' Nursery proudly offers delivery service to surrounding areas. For those who can't make it down to our facilities, we gladly accept phone orders. Let us know what you need and we'll make sure it arrives promptly.
Consultation

Always wanted a professional-looking garden? Luis' Nursery can provide you with the name of experienced gardeners and landscapers to help you quickly become the envy of your neighborhood. Contact us today for more information!
EXCITING ANNOUNCEMENT!
AWARD WINNING LANDSCAPE DESIGNER TO BE ON STAFF AT LUIS' NURSERY
In an effort to provide our customers with the best possible services in the area, starting March, we are pleased to announce that Melanie Mackenzie of Biomirage Landscape and Garden Design will be teaming up with the staff at Luis's Nursery, and will be on site here on Thursdays. Ms. Jauregui brings 25 years of experience and capabilities as a hands on, award winning landscape designer, artist, watershaper and published writer. Her various skills, have been applied to commercial, governmental and private development providing her with a broad base of experience. Since founding Biomirage in 1992, she focuses exclusively on conceptual custom residential design.
Planting Design (all styles with special focus on drought tolerant, native and hydro-zoning. including in hourly field design consultations – a very cost effective way to get a professional plant design without the cost of drawing plans!)
Colored Plans and Perspective Drawings
Pool and Spa Design
Design of Landscape Elements
Low Voltage Lighting
You can visit her web site at: www.biomirage.com